Thanksgiving (USA)
---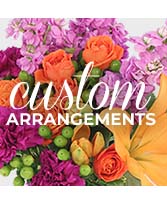 Custom Flower Design
Let us create a custom flower arrangement for you.
Order within 6 hours 14 minutes for Same Day Delivery!
Buy Now
Where is KD'S FLORIST & GIFTS located and what are your shop hours?
KD'S FLORIST & GIFTS is located in Katy, TX.
Monday:
09:00 -
16:00
Tuesday:
09:00 -
16:00
Wednesday:
09:00 -
16:00
Thursday:
09:00 -
16:00
Friday:
09:00 -
16:00
Saturday:
Closed
Sunday:
Closed
* Delivery times may vary. Because of high volume orders, we cannot guarantee delivery times, however businesses and schools have first priority
I have a few questions, how can I contact KD'S FLORIST & GIFTS?
If you have questions regarding the details of your order, delivery, or other needs, please feel free to contact KD'S FLORIST & GIFTS at (877) 667-7057. One of our shop employees would be glad to assist you.
Schedule delivery now so you don't have to worry later.
Stay ahead of the game and order your flowers ahead of time. The sooner you place your order, the better chances you have to secure your specific flowers and delivery date. Ordering online is easy. Explore your options on our Thanksgiving florals page, select the flowers you want, provide additional information, set your delivery date, and pay. You will be able to provide any card messages if you are gifting flowers this season and also offer additional delivery instructions.
The later you place your order, the more risk the possibility of supplies running low and flowers being substituted. This can be avoided by ordering in advance to receive the flowers you desire. During order-heavy periods, such as Thanksgiving, specific flower supplies can run low or go out of stock. As the shop waits for the ability to restock, the timing of fresh flowers being shipped into the store can be unpredictable.
Save yourself the concern and give yourself the gift of assurance this Thanksgiving season by ordering your flowers sooner rather than later.